Donning the Red and White gown of cheerful Santa Claus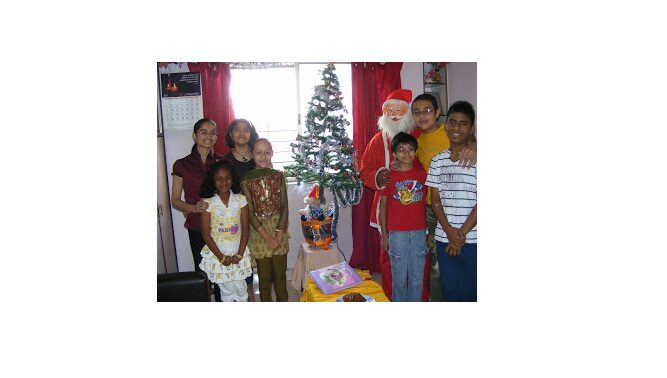 Camil Parkhe
Pune, December 24, 2020: It was the Christmas in 1985 in Lucknow when for the first time I played Santa Claus to a group of 50 journalists drawn from all over India. We were camping there for a three-month diploma course in journalism, organised by the International organisation of Journalists (IOJ) in association with the Indian Federation of Working Journalists (IFWJ). I was also then the general secretary of the Goa Union of Journalists.
Those days, even in Goa, Christmas was not yet commercialised by the market forces and the Santa Claus costume was not so easily available. In Lucknow, the capital of Uttar Pradesh, too, Santa Claus dress was not available at the Charbaugh railway station chowk's busy market. Therefore, on the night of December 24, I had to sport a white beard and a moustache glued onto a cardboard paper. I used a long black overcoat. But none of the journalists' campers minded it as this was the first encounter with Santa Claus for most of them.
I remember the minimum temperature in Lucknow during those days was around 3 to 4 degrees Celsius. A fire was lit at the Bima (Insurance ) office complex where we were camping. Sitting around the fire, the journalists thoroughly enjoyed my Santa Claus appearance. There were no Christians among them and most of them perhaps knew little about the Nativity or the birth of Jesus in Bethlehem. Since then, I have played the role of the old man in Red and White attire many times.
After the birth of my daughter, playing Santa for Aditi and her peer group became a necessity and also a pleasure. Those days, the young ones in our building and Shraddha Garden Colony in Pimpri Chinchwad looked forward to meeting Santa Claus on the eve of Christmas and the parties we had in the parking lot on Christmas morning. Their parents too were willing to contribute in various ways to make these events more enjoyable.
When I rang the door bells of my neighbours donning Santa Claus attire for the first time, there were clear signs of disbelief and pleasant shock on their face. I remember a young mother who opened the door around 11 pm and shrieked after seeing the mask of Santa Claus and shut the door with a loud bang. She burst into laughter when she, along with her family members, opened the door again a few seconds later and welcomed the Santa.
The children below three years too have a similar frightened reaction when they see a bearded masked man for the first time. It is only a couple of years later that they grow quite fond of Santa Claus. Now all those children have grown up and have already completed their degree in education and are working. I am sure to this date, they cherish their memories of meeting Santa Claus and the enjoyable parties with him.
Later, I also played the role of Santa Claus at the office of Maharashtra Herald-SakalTimes in Pune and Pimpri Chinchwad just before I went on my annual Christmas vacation. This was also around the time when the Christmas carol singers, accompanied by Santa Claus, start visiting families to sing the `Jingle Bell' and `We wish you a merry Christmas'. The reaction, frightened and curious looks of my new office colleagues when they did not know the identity of Santa Claus was worth watching.
My daughter Aditi no longer expects me to play Santa Claus for her and her friends during Christmas but there are always tiny tots in the building and the neighbourhood. And they have helped me retain my enthusiasm to don the Red and White gown, the long cap, and ring the bell at their home on December 24 night to cheer them and also the elders in the family.
Christmas has no longer remained a religious festival of a particular community. It is a joyous festival, a season of sharing gifts and joy with others. This realisation propels me to don the Red and White attire every time around Christmas. Now too I am looking forward to December 24 night.
(Camil Parkhe is a senior journalist based in Pune. He started his journalism career in Goa and worked various newspapers in different capacities.)