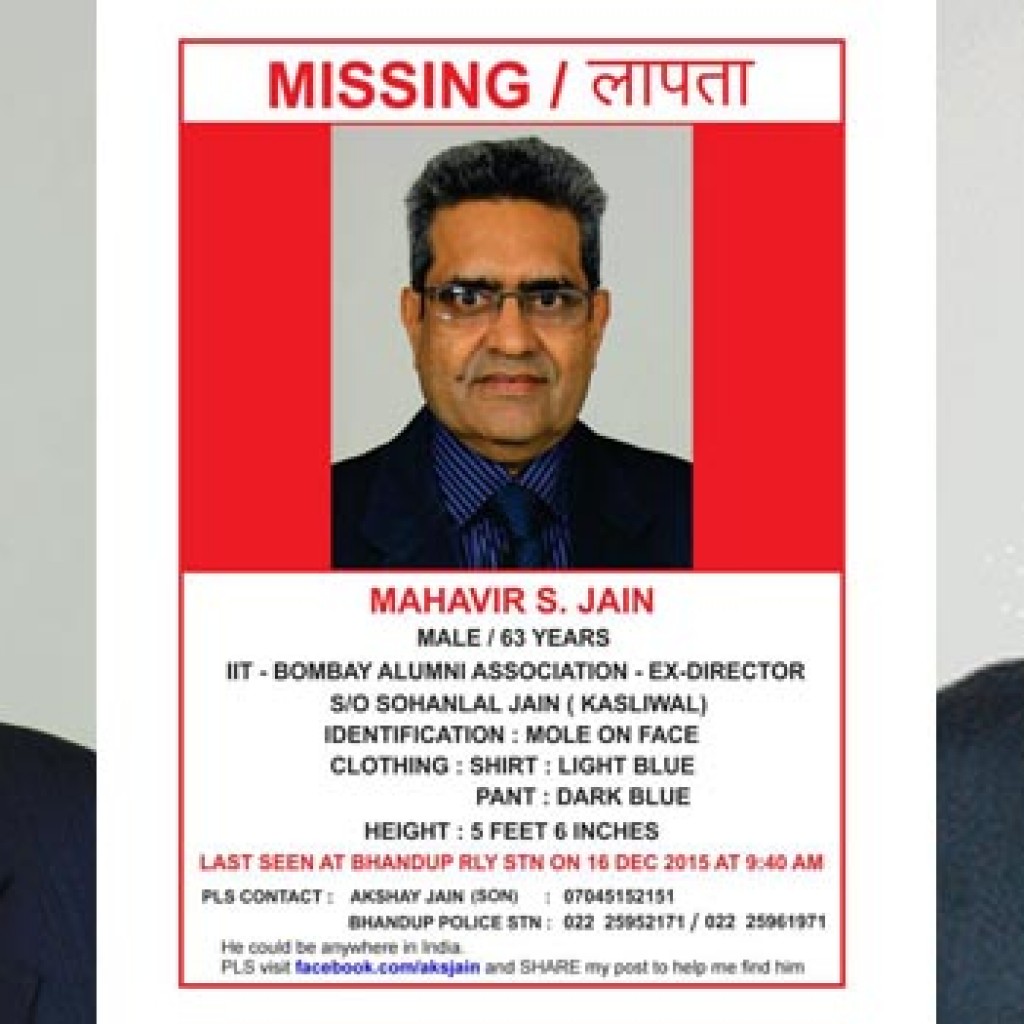 Youth takes to Facebook to search his dad who has been missing since December last year. This is what he has posted :
Dear dad, I don't know where you wanted to go on the morning of 16th Dec. I was half asleep but I do remember faintly that you told me, "Bye Aku," before telling mom in the kitchen that you are going out or something. You were last seen in Bhandup Railway Station, Mumbai based on the CCTV footage. And then you disappeared… completely off the radar.
Even the CCTV footage is unclear which direction you were going or which train you boarded. Or whether you boarded one at all. It's been a few weeks and we're still unable to know whether you left intentionally, suffered memory loss or met with some other unfortunate accident and hence can't contact us.
In your 63 YEARS, you have travelled to many places in India. I know of your strong affinity to religion and to the many Jain Pilgrimage sites in Karnataka – like Karkala, Shravanabelagola, Kanakagiri, Moolbadri, Dharmasthala, etc.
Perhaps you really are in Karnataka right now. Or you're in a totally different part of India. Or perhaps you are still around Mumbai, Maharashtra but are unable to reach us due to an unfortunate mishap. I just hope you're safe.
Dear dad, if you or someone who spotted you is reading this, we need to know if you're safe. Uncertainty is really stressful to everyone and mom is sitting blank unresponsive all day & not eating properly anymore. I'm really worried about you and now mom as well. frown emoticon
———
Dear friends and well-wishers, he's my dad, Mahavir Jain – a 63 yr. old IIT Bombay alumnus. We are unsure if he's safe or if he suffered memory loss while travelling. He didn't carry his mobile phone when he went out… he has forgotten it at home many times in the past too. Please help me put a smile back on my desolate 61 yr. old mom's face. Please help me find my dad.
Here's how you can help:
#1. Share this post
#2 Join & invite your friends to the nation-wide Facebook GROUP dedicated to finding him:https://www.facebook.com/groups/FindMahavirJain
#3. Download his colour poster on your mobile phone (.JPG image): http://tiny.cc/findmydad & Whatsapp it to everyone you know
#4. Get in touch with places in India (especially in Karnataka & Maharashtra) where food & shelter are offered as kind service to society ==>
a. Pilgrimage sites (Tirth Kshetras): E.g. Karkala – Karnataka, Shravanabelagola, Dharmasthala, Kanakagiri, Moodbidri
b. Dharamshalas
c. Temples
d. Ashrams
e. Old age homes
f. Community centres
g. Yatriniwas
#5. Share with the people in these institutions the colour poster via WHATSAPP & FACEBOOK
#6. Request the people in these institutions to RE-FORWARD the poster to their own circle all across India
IF EACH PERSON READING THIS CAN WHATSAPP JUST THREE SOCIAL INSTITUTIONS, WE CAN COVER THE MAJORITY OF INDIA QUICKLY.
Every bit you do will immensely help to make his "Missing" POSTER viral in India ( .JPG image –http://tiny.cc/findmydad )
I will continue to post updates in the Facebook group:
https://www.facebook.com/groups/FindMahavirJain
…and also in my profile:
https://www.facebook.com/aksjain
I am extremely grateful that so many people have come forward to support me in my quest to find my dad.
Thank you,
Akshay Jain – "Aku"