Padma Bhushan Dr. S B Mujumdar conferred D.Litt degree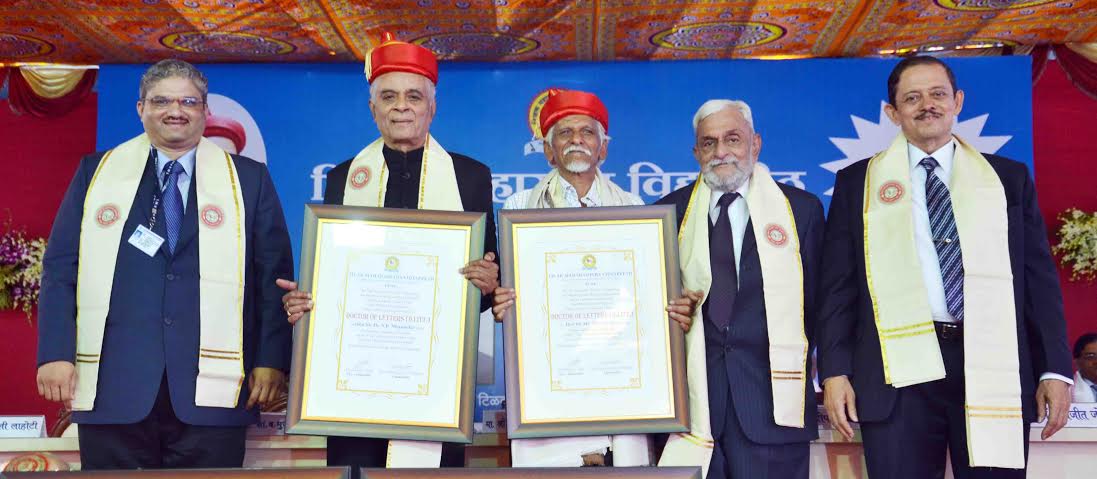 Pune: Padma Bhushan Dr. S B Mujumdar, Founder and President of Symbiosis and Chancellor of Symbiosis International University (SIU) was conferred honorary D. Litt by Tilak Maharashtra Vidyapeeth (TMV) at its 27th convocation ceremony held at Mukundnagar campus on Saturday.
TMV honored Dr. S B Mujumdar with D. Litt for his exemplary feat of building, single-handedly, a model educational enterprise 'Symbiosis' that has created a plethora of opportunities for the aspiring youth to make them capable of building a strong and modern India as visualized by Lokmanya Tilak.
While accepting the D. Litt, Dr. S B Mujumdar threw light on the importance of private universities in country' development. He believes that to increase the Gross Enrollment Ratio of India, there is need of over 800 universities and it is not possible for government to come up with so many universities. Hence there is no other way than private universities," Dr S B Mujumdar said.
Sharing old connection with Tilak family at various stages of life, Dr. S B Mujumdar said that, he believes in coincident where at various stages of life he got in touch with the Tilak family. "I taught for around 20 years at Fergusson college founded by the Lokmanya Tilak. While working for foreign students I also wrote few articles on their issues in the daily Kesari  and now I am getting honorary D. Litt from the TMV where Vice Chancellor of the varsity is Dr. Dipak Tilak who is carrying genes of Lokmanya Tilak."
Addressing gathering, Dr. Dipak Tilak, Vice Chancellor of the TMV said, students don't have to search history for ideals, as Dr. S B Mujumdar himself is an ideal for students who want to do something for the society.