PRAN de-addiction program to be held in April at Markal Ashram, Alandi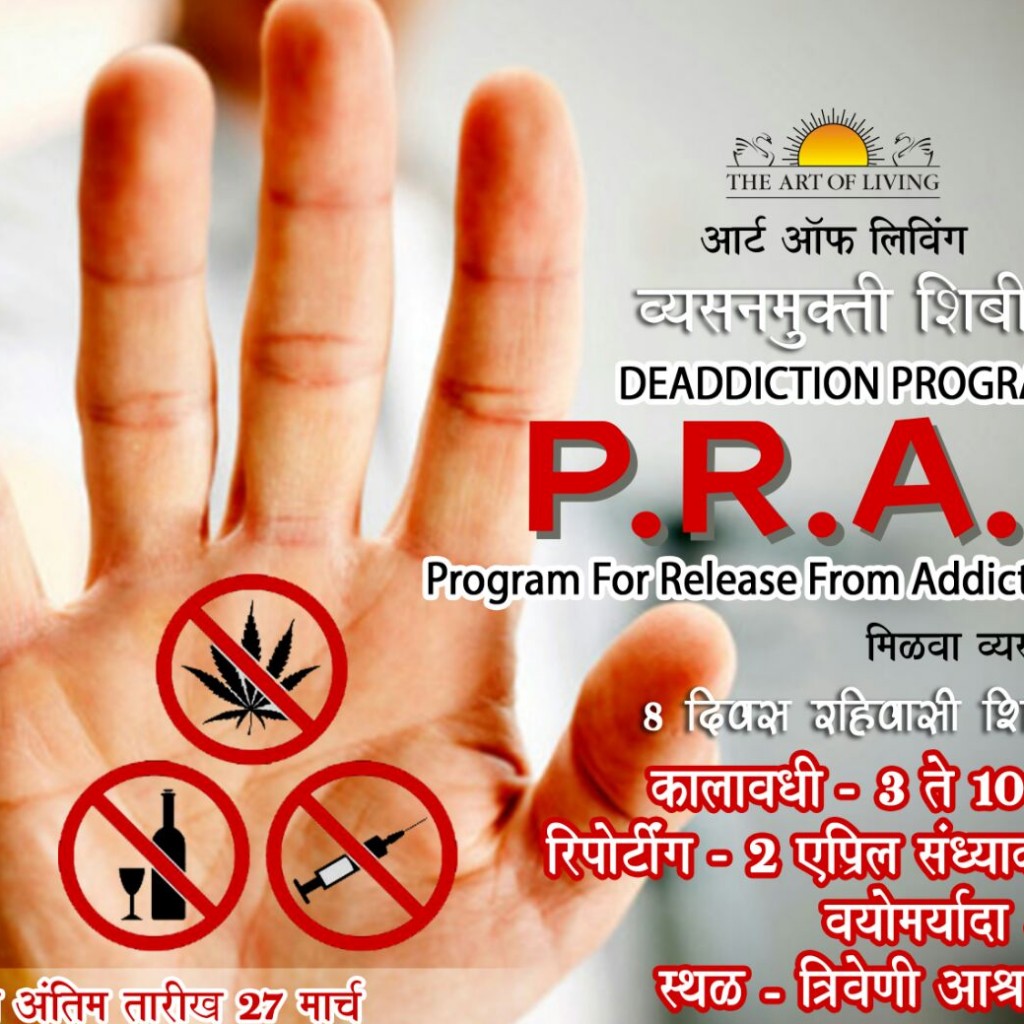 P.R.A.N. – A unique De Addiction  program  inspired by vision of H.H. SRI SRI RAVISHANKARJI was organized by The Art of Living team of Teachers and volunteers at Triveni Ashram near Markal and was  lead by Senior art of living teachers Mr. Nitin Pradhan and Dr. Mrs. Geetanjali Mule.
This was first PRAN program in Maharashtra by The Art of Living followed by success history of past 10 years in states of PUNJAB , WEST BENGAL and KERALA.
P.R.A.N. stands for Program Relief from Addictions Naturally.  It is totally in alignment with vision of GURUDEV HH Sri Sri Ravi Shankar . HIS Vision is to have a Stress free mind , Disease free body and Violence free society and
addiction is one of the major root cause of Stressed Minds, Disease in body and Violence and Crime in society.
In this 8 days residential program , which took place from 18th – 25th Feb , participants initiated their addiction free living.  As family and society plays very important role in person's addiction free life , families  are made part of 7th and 8th day of program as well as post program support is extended by team of dedicated volunteers for upto three months. Weekly followups are organised for the participants in their hometowns anywhere in India.
SUDARSHAN KRIYA  , PADMASADHNA, Yogaand other special processes make this program very unique . Additionally participants also attend weekly follow-up sessions of SUDARSHAN KRIYA , which takes place in
more than 152 countries. This helps participants to remain motivated and inspired even if they relocated to other city or even other country.
While talking about this program , program lead faculty and senior AOL teacher Mr Nitin Pradhan mentioned that due to an addiction , one very strongly starts believing that without consumption of alcohol or drugs  its impossible for him or her live life. Whereas  P.R.A.N Course makes him experience a life which is not only beyond this misconception but also largely makes him to excel in his life while living new , addiction free life and makes him realize true potential.
Participants shared their experience of happiness which they attended after doing this program which is truly in line of teaching of H.H. Sri Sri Ravishanjarji  which says " Happiness is not outside, but its within you " . Due to addiction   participant was finding his happiness in alcohol and now he have experienced that to be happy he
does not need to any more be dependent on alcohol and now lives addiction free life.
This initiative will continue making every life stress and disease free and make society violence and crime free.
The next program will be at Triveni Ashram , Markal from 3rd – 10th April 2016.
For more details , you can contact below team members. Anant – 72761 27385 / Mohini –  99751 35976 / Sonali – 70301 91199