Pune-born India Junior World Cup Footballer Kajol D'Souza Shows That Determination Pays Off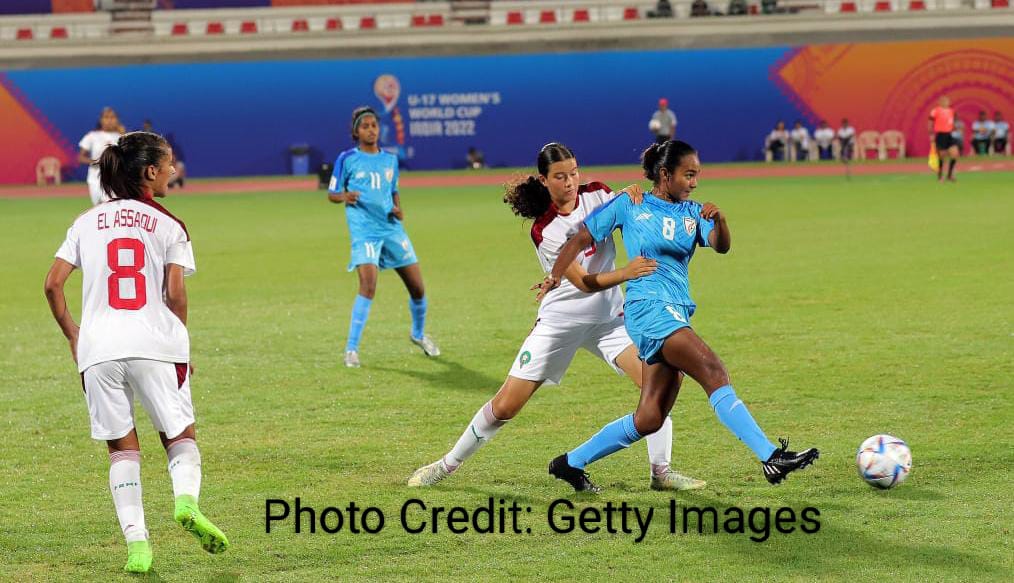 Pune, 17th October 2022: Who would have ever believed that the passion to play football was kindled while playing the game in one's own housing society!
As much as a surprise as it sounds, Pune-based Kajol D'Souza is testimony to the fact that dedication and devotion translates into reality.
For Kajol, since the little girl she was in 2014, the journey has been of persistence. Today, eight years hence Kajol is living her dream of donning the Indian colors at the ongoing FIFA Under-17 Women's World Cup, currently being played in India.
Kajol's early beginnings, as her mother Gratia best narrates, was in 'boy's company' that included her elder brother Kian, currently pursuing his engineering degree in Australia, and his friends.
"She (Kajol) had no one with similar interest except the boys," Gratia explained, before unfolding a story that is no-less-than-a struggle to exist first and then succeed.
Realizing her interest, the D'Souzas' sowed the first seed of Kajol's future by signing her up with the Arsenal Soccer School programme situated within the Undri-limits where she resided.
Kajol's road to success thereafter ran on the proverbial line "success has many fathers," with Ryan Cohello guiding her on first count, then at The Bishop's School, Undri it was Naomi Vaze who took her though early morning sessions, then it was the LaLiga Football Schools, Deccan XI under Anil Deshpande to just after the pandemic when coach Yogesh helped out at Royal FC.
"Honestly, we were looking for maximum playing time for Kajol," explained Gratia.
Focused and head-strong, Kajol was no less in showing her potential on-field be it at any level, including training.
"From the beginning she always wanted to do her best and strove for it," her mother recollects. At school-level Kajol represented Maharashtra twice at the School Game Federation of India (SGFI) Football Nationals, first in the 64th edition and the subsequent year. Her first outing – when Maharashtra claimed the bronze medal – was memorable as she netted 9 goals.
Highpoints in recent time that can be recollected by her being part of the Pune District team that emerged champions in the Inter-District Championship at Jalgaon in 2020.
"We are proud to have had Kajol on the team. Her selection back then gives Pune football today an identity at the highest level," remarked Poona District Football Association (PDFA) Vice President, Pyarelal Choudhary. Similarly, PDFA Honorary Secretary, Pradeep Pardeshi, who was a member of the selection committee, added, "My hearty congratulations to Kajol and her family. It's a big moment for her and we are all happy for her."
To compound matters for Kajol, Maharashtra being pandemic-prone translated into activities taking longer than normal time to normalize as opening to outdoor activity were guarded. And when the pandemic was in control, the process of activities getting back on track was slow, leave aside competition. This led to the D'Souza's constant enquiries ending in 'nought' and suspended.
With the inaugural PDFA Women's League still in plan and taking time to take off, enquiries in Mumbai to play the IWL Qualifiers resulted in Kajol being declined owing to being young aged. "It was getting frustrating finding her a club for competitive games," Gartia added.
It was then when Bengaluru had opened up and announced their league (IWL-Qualifiers) and an opportunity in playing for a local club Parikrama F.C came by. Trials at the club and the nod to play thereafter was a sign of relief opening a new chapter in Kajol's dream.
At Parikrama F.C, Kajol's eagerness to get back on top can be sampled by the fact that she was adjudged 'Man of The Match' thrice and resulted in being spotted as an Indian team potential ahead of the FIFA Under-17 Women's World Cup. The rest is history as she is living her dream; first team starts in all three Group-A Games against United States, Morocco and Brazil is enough endorsement of the zeal she had.
In her build up to the World Cup, Kajol travelled with the Indian squad to Italy and Norway for the 6th Torneo Female Football Tournament and the Open Nordic Tournament WU16 respectively. In the Nordic tournament, she came off the bench in India's match against the Faroe Islands. The match finished goalless but India went on to lose by a margin of 2-4 on penalties.
Interestingly, Kajol during her ICSC tenth board exam gave the preliminary India trials and not only went on to be shortlisted, but also ended up with a 92.2 percent mark sheet to show!
And if one had to dig further regarding Kajol's footballing traits, the answer is: no one in her family ever played football. In fact her mother, who hails from Mangalore was a short-sprint athlete, her father from Pune did not play sport and neither did her brother.
"Her hard work has paid off," says Gratia. "Her next target is to represent India at the senior level," she adds.
The youngsters' run to the top is undoubtedly inspiring, but what also does stand out in parallels is the encouragement and belief that her family offered to attain succeed, a story that only one has to live and experience to explain.
Join Punekar News Whatsapp Group, Telegram, Instagram And Twitter  For Regular Update about Pune City And Pimpri-Chinchwad
Also Read Political News On Sarkar Khabar