Pune : Business Education students go on a waste recycling trail to examine opportunities in the fast emerging waste management sector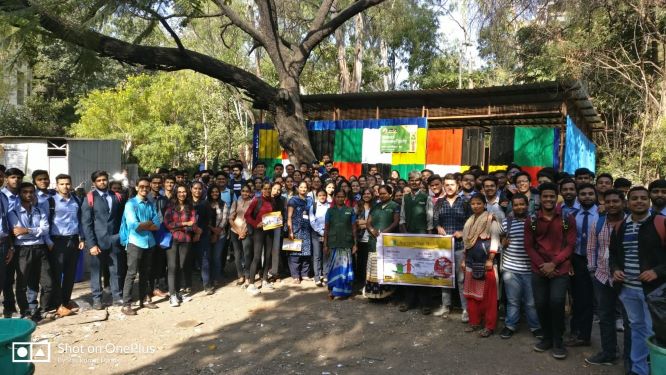 Pune, February 25, 2020 : With waste growing at the rate never seen before, there are more opportunities to work with it and create livelihoods for ourselves and others. This was the premise for which Dr Ketaki Ghatge, of the Solid Waste management Department,Pune Municipal Corporation,  recently addressed the BBA students at Garware college. Students who are looking for opportunities in emerging sectors were also invited to visit different enterprises working in the sector to get a better understanding of how they could fit in.
"The SWaCH – PMC model impressed them and invoked curiosity and hence a field visit was organized for over 100 students to follow the journey of waste from generation to disposal. As the older jobs vanish in this new age, it is also important to look at the emergent opportunities. Starting with shadowing a waste picker, to see the PMC feeder points and ramps and also the end use of recycled materials and composting of wet waste was a new experience for these students and will educate them about waste management and opportunities therein" says Dr Ghatge who was happy at the enthusiasm and interest displayed by the young talent.
Shobha Bansode, member, SWaCH, who has been collecting waste from door to door, for more than a decade in the Prabhat road area, expressed happiness at having the young visitors and their questioning disposition. "They have to live on the planet and if they have a better understanding of waste and recycling and how decentralized models like SWaCH- PMC help the city and enable better recycling at lower costs, it will help them see opportunities in this area. Everyone must know about waste as we all create it every day, but few understand about its safe and optimal disposal".
Expressing gratitude for the insightful interaction and for investing time with the students and teachers of Garware College of commerce, Dr. Tanuja Devi, M.E.S., faculty at Garware College of Commerce, Pune said "After interacting with SWaCH staff and members we have understood importance of waste management of SWaCH – PMC model closely. SWaCH members who are working for long in conditions and places where most of us have no inking about, is remarkable work. SWaCH Model is an ideal programme which is making contribution toward protecting environment. It also a great initiative for waste pickers where sustainable goals can be achieved for urban poor."
SWaCH saves the city and PMC over Rs. 100 crores per annum. Many students expressed an interest in working in the sector and had several questions about the challenges that need mitigation. SWaCH offers such trails on request and often conducts them for visitors and local residents on several occasions.