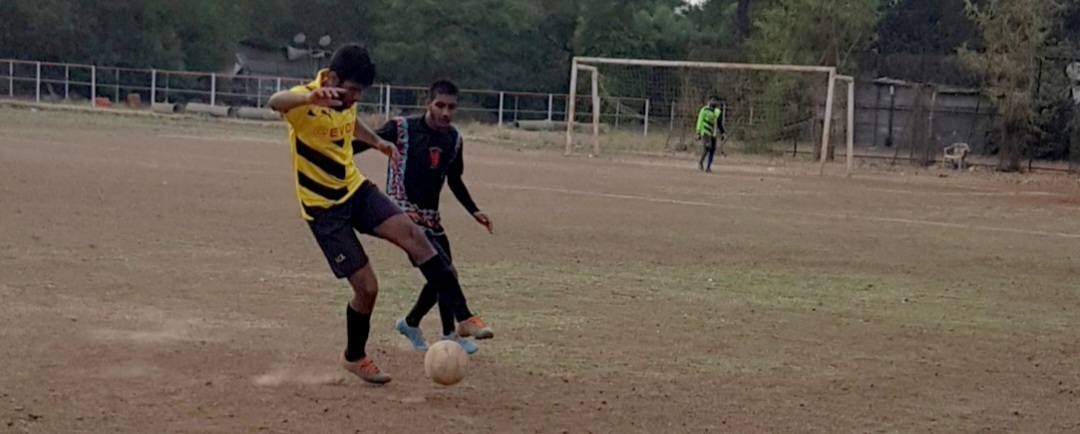 Pune, 17th May 2022: Dynamites and Ghorpuri Tamil United registered huge wins in the Second Division, while Noisy Boys and Kirkeeans 'B' gained full points in the Third Division in the Poona District Football Association (PDFA) League 2021-22, here on Tuesday.
At SSPMS Ground, Dynamites put aside Sukhai F.C 5-0 in a Pool-D encounter. Aniket Barsakhle (12th, 13th) and a goal each by Sarthak (38th), Sunit Gupte (44th) and Rohan Mulay (56th) was enough to settle the issue in Dynamites favour.
In Pool-C, Ghorpadi Tamil United hammered Wanawadi S.C 6-0 with Robin Pillay (9th, 12th) and Kartik Kali (25th, 38th) scoring twice while Samson Pillay (29th) and Nehar Pillay (52nd) added to the scoreline.
In Pool-A, FC Beckdinho grabbed all three points, with a 2-0 win over Sunny Days FC
In simultaneous matches at SP College, Noisy Boys silenced Giantz 'B' 4-0 in Pool-E. The highlight of the game was a hat-trick by Dinesh Rathod (21st, 23rd, 41st), while Anuj Kute (58th) completed the tally.
Pool-B action had Kirkeeans 'B' fight off Mominpura 2-1 with Vaibhav Mahule (35th, 58th) leading the winners. Saud Javali (40th) pulled one back for Mominpura.
RESULTS
At SSPMS: Second Division: Pool-B: Chetak F.C 'B': 2 (Swaraj 12th, 57th) bt NDA Youth Sports Club: 0
Pool-C: Ghorpuri Tamil United: 6 (Robin Pillay 9th, 12th; Kartik Kali 25th, 38th; Samson Pillay 29th; Nehar Pillay 52nd) bt Wanowari S.C: 0
Pool-C: Golfa Bushrangers bt Sangam Young Boys – Walkover
Pool-C: Utkarsh Krida Manch 'B': 1 (Gunvant Patil 32nd) bt Ram Sporting: 0
Pool-D: Ashoka XI: 1 (Prasad Bhandari 18th) drew with Unique Wanowari F.C: 1 (Vivian Susai 23rd)
Pool-D: Dynamites: 5 (Aniket Barsakhle 12th, 13th; Sarthak 38th; Sunit Gupte 44th; Rohan Mulay 56th) bt Sukhai F.C: 0
Pool-A: FC Beckdinho: 2 (James D'Souza 7th; Saurabh Patil 35th) bt Sunny Days F.C: 0
Monday: At SSPMS: Under-16, Youth League:
Pool-B: Barca Academy: 11 (Hardik Sharma 8th, 13th, 14th, 22nd; Neel Dagde 16th; Siddesh Korde 25th; Pakshal 29th; Dheer Nadkar 33rd, 65th; Jatin Gulwani 38th; Manas Ghadge 41st) bt Greenbox Chetak: 0
Pool-B: Daksh F.A bt City F.C – Walk-over
At SP College: Third Division:
Pool-E: Noisy Boys: 4 (Dinesh Rathod 21st, 23rd, 41st; Anuj Kute 58th) bt Giantz 'B': 0
Pool-B: Kirkeeans 'B': 2 (Vaibhav Mahule 35th, 58th) bt Mominpura: 1 (Saud Javali 40th)
Pool-B Sai F.A bt Pardeshi F.C – Walkover
Pool-C: Loukik F.A: 2 (Rohan Sunar 20th – pen.; Ankit Biradar 53rd) bt Dehu Feeters: 0
Monday: At SP College: Third
Division: Pool-H: PCH Lions: 2 (Kunal Yeole 32nd; Cladeo Nongpluh 33rd) bt F.C Maharashtra: 0
Pool-H: Friends XI: (Aditya Kulkarni 36th; Yakush Mirza 53rd; Soham Mane 55th) bt Yodha F.C: 2 (Javed Sayyed 11th)
Pool-A: Sangvi F.C 'B': 0 drew with Parshuramians 'B': 0
Pool-A: Nav Maharashtra: 1 (Umesh Padmule 17th) bt F.C Beckdinho: 0