Pune: Openings For Digital Marketing Executive, Content Writer And Sales Executive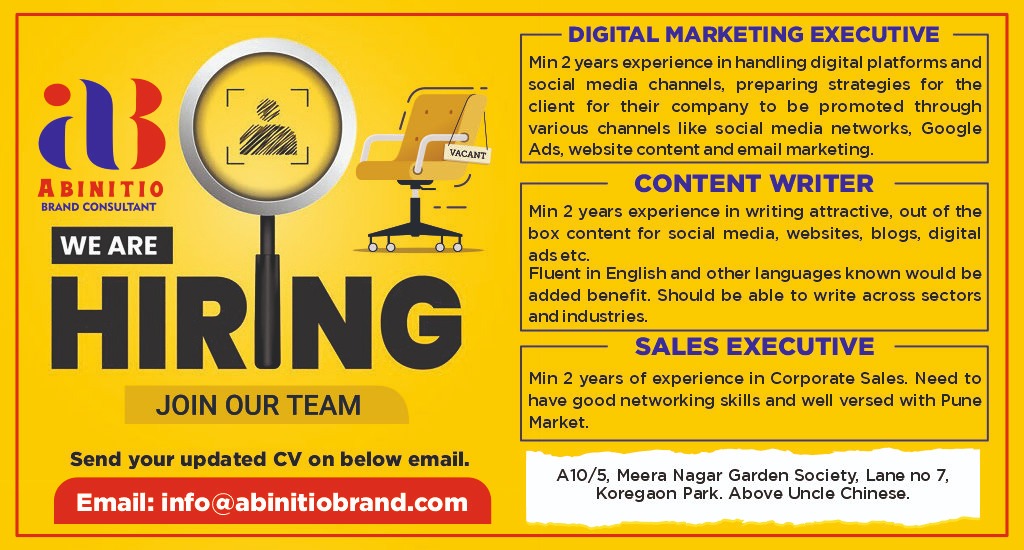 Pune, 31st May 2022: One of the fast emerging digital company headquartered in Pune is looking for young and creative people for below open positions:
1. Digital Marketing Executive – min 2 years experience in handling digital platforms and social media channels, preparing strategies for the client for their company to be promoted through various channels like social media networks, Google Ads, website content and email marketing.
2. Content writer – min 2 years experience in writing attractive, out of the box content for social media, websites, blogs, digital ads etc.
Fluent in English and other languages known would be added benefit.
Should be able to write across sectors and industries.
3. Sales Executive – min 2 years of experience in Corporate Sales. Need to have good networking skills and well versed with Pune Market.
Send your updated cv on below email.
Email: info@abinitiobrand.com
Address:
A10/5, Meera Nagar Garden Society, Above Uncle Chinese, Lane no 7, Koregaon Park, Pune