Pune: Prof. Chetan Singh Solanki Honored with Service Excellence Award by Rotary Club CHINCHWAD for Solar Energy Contributions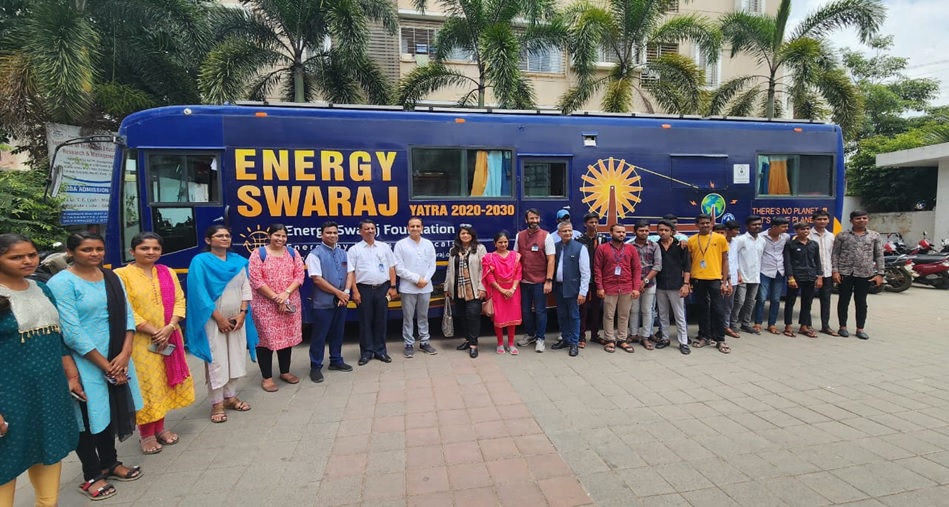 Pune, 7th September 2023: The Rotary Club CHINCHWAD Pune RID 3131 presented the Service Excellence Award to Honorable Prof. Chetan Singh Solanki, the Founder of Energy Swaraj Foundation, in recognition of his remarkable contributions to the field of Solar Energy and Corrective Action Plans aimed at conserving and optimizing energy usage.
This prestigious accolade was conferred during the Rotary Youth Leadership Award event themed "Climate Change and Corrective Actions" on 1st September 2023. The event took place at Prof Ramkrishna More College in Akurdi, Pune, and was graced by the presence of District Governor Rtn. Manjoo Phadke.
Prof. Chetan Singh Solanki, who holds the position of Professor at the Department of Energy Science and Engineering, IIT Bombay, is not only a distinguished academic but also the visionary Founder of Energy Swaraj Foundation. Additionally, he serves as the Brand Ambassador of Solar Energy for the Government of Madhya Pradesh, India.
Prof. Solanki's concerns regarding climate change prompted him to embark on the monumental 11-year-long Energy Swaraj Yatra, conducted entirely within a solar-powered bus. During this extraordinary journey, he chose to reside on the solar bus, foregoing the comfort of a traditional home for a duration of 11 years. Those interested in learning more about the Energy Swaraj Foundation and its environmental objectives are encouraged to visit the official website at https://energyswaraj.org/. The website also hosts a world clock tracking climate control milestones, underscoring the critical importance of limiting global temperature rise to 1.5 degrees Celsius—an imperative figure closely monitored by climate scientists worldwide.
Furthermore, the Rotary Club of Chinchwad has introduced an online course on Energy Literacy, accessible through energyswaraj.org. This course aims to raise awareness about responsible energy usage and is open to registration, completely free of cost. The Energy Literacy Training has already yielded positive results in reducing electricity consumption in both households and organizations. 
Notably, the All India Council for Technical Education (AICTE), a government regulatory body, witnessed substantial monthly savings of approximately 20,000 to 22,000 units of electricity after providing Energy Literacy Training to its employees. An Energy Literate user exhibits a heightened sense of energy consciousness, leading to not only reduced energy consumption and cost savings on electricity bills but also a significant reduction in carbon emissions. Each unit of electricity saved contributes to the mitigation of approximately 1000 grams of CO2 emissions.
In addition to his other commendable efforts, Chetan Singh Solanki conducted a workshop on Climate Change awareness and corrective actions for over 210 students at Ramkrishna More College. The event was inaugurated by the college's Principal, Dr. Manohar Chaskar, and witnessed the participation of notable figures such as Vice Principal Dr. Bejami Lobo and Vice Principal Hiralal Sonavne from the college's organizing team. The Rotary Club of Chinchwad was well-represented by its President, Rtn. Yatish M Bhatt, Secretary Rtn. Sachin Wadbudhe, and prominent members including Rtn. Dr. Prof. Shilpagauri Ganpule, Rtn. Prasad Ganpule, Rtn. Shriprasad Sohani, and Rtn. Harsha Joshi.