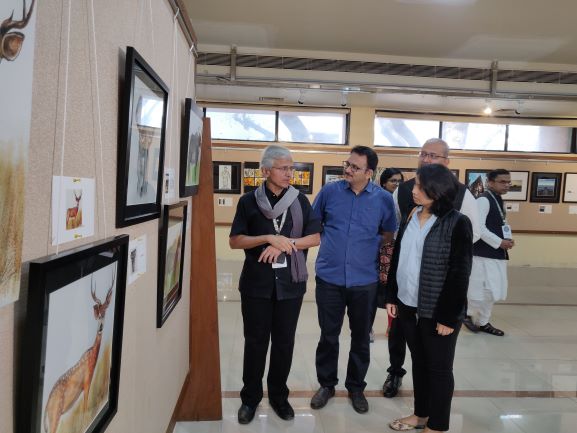 Ruchita Naik
18 Jan 2020, Pune : The art of spine care event was held at Pt. Jawaharlal Nehru Sanskritik Bhavan and art gallery on 18th & 19th January respectively. The exhibition showcased the artwork of the founder of Dr. Shekhar Bhojraj of the spine foundation. He put his artwork exhibition to raise funds for the foundation.
For over 20 years, the spine foundation has been working to support investigations and treatments of patients with spine ailment amongst the urban and rural area who cannot afford the treatment. The spine foundation was formed to cater to the problem of 70% population, which is rural and who are most inclined to have back problems. The spine foundation has treated over 10716 patients, performed over 400 operations in 50+ camps held in 11 locations across the country. The mission of the foundation is to provide quality spine care to the underprivileged, even in the most remote parts of India.
The event had over 140 paintings for display and was not for sale but only as a token of their gratitude. "The photographs in the display were shot by me on my iPhone 7 while some of my paintings were made 40 years ago and some in the last week", said Dr. Bhojraj.
His books 'Photo, Paint & Pen' and 'The journey of spine foundation' were released last week. Both books were on the display in this event. If the donation is made over Rs 5000 or more, the person will be gifted a copy of his art book as a sign of appreciation. If the donation is made over Rs 25,000 or more, the person would be gifted any frame of choice from the exhibition. The book, the journey of spine describes in detail about the work done by the foundation, while the other book Photo, Paint & Pen has over 330 artwork pieces by Dr. Bhojraj.