The Ganesha Way: Leadership Lessons from the Elephant God" – Dr. Rishi Acharya's Unique Approach to Leadership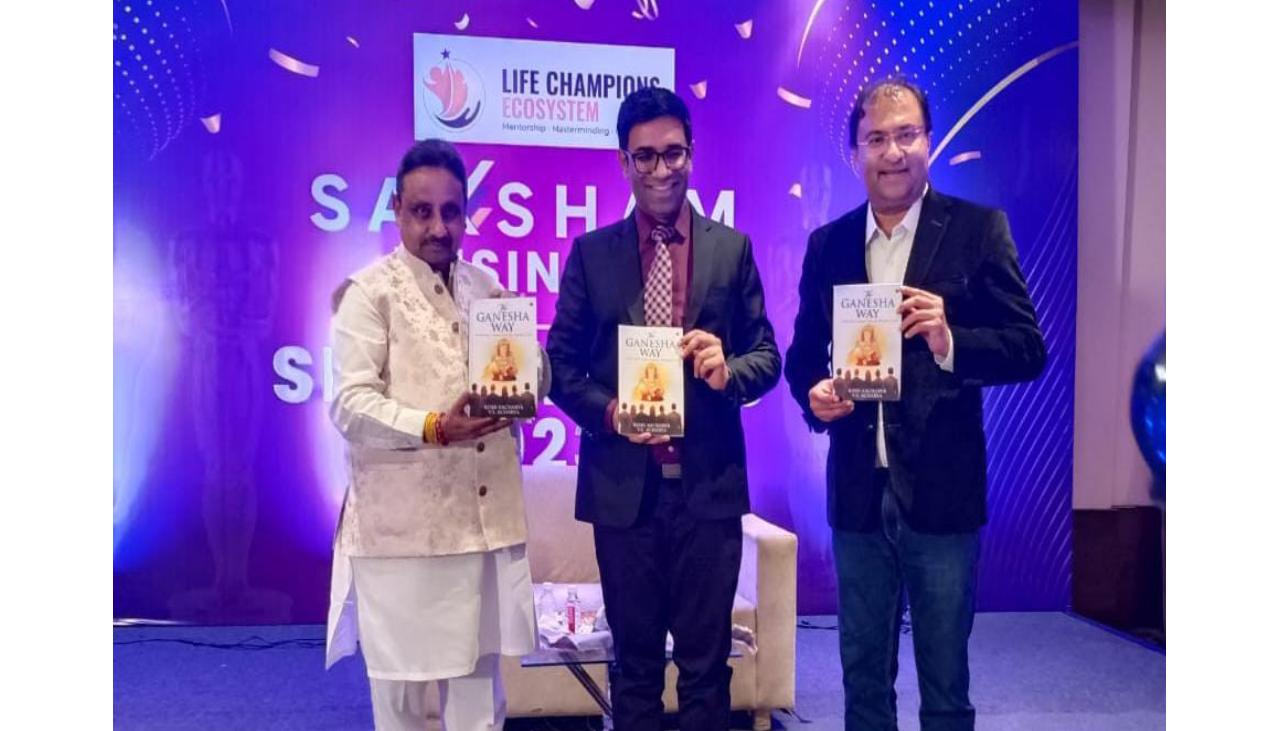 Amit Singh
Pune, 28 September 2023: In the expansive realm of leadership literature, a distinct and illuminating addition has emerged with the launch of Dr. Rishi Acharya's latest release, "The Ganesha Way: Leadership Lessons from the Elephant God." Unveiled during the auspicious Ganesh Utsava, this book takes readers on a captivating journey into the persona of Lord Ganesha, revealing a trove of leadership principles nestled within his divine image. Co-authored with his father, Shri V.S. Aacharya, this book is a heartfelt exploration of leadership wisdom extracted from the rich tapestry of Hindu mythology.
The Author: Dr. Rishi Acharya
Dr. Rishi Acharya is renowned as one of India's most prominent life and business coaches and a prolific author. With a vast following and a reputation for guiding individuals and organizations towards reaching their highest potential, his insights and expertise in the realms of leadership and personal development have made him a sought-after mentor and speaker. "The Ganesha Way" reflects not only his profound understanding of leadership but also his ability to bridge ancient wisdom with modern challenges.
A Mythological Perspective on Leadership
In this insightful book, Dr. Acharya seamlessly weaves together the timeless stories of Lord Ganesha with practical leadership advice, offering readers a fresh perspective on navigating the complexities of leadership in today's world. "The Ganesha Way" stands as a testament to Dr. Acharya's commitment to helping individuals unlock their leadership potential through the wisdom of mythology and spirituality. It is a must-read for anyone seeking to lead with purpose, vision, and wisdom, drawing inspiration from the divine presence of Lord Ganesha.
The Essence of Ganesha
Lord Ganesha, revered as the remover of obstacles and the patron of wisdom, has long been a source of inspiration for people from all walks of life. Dr. Rishi Acharya's fascination with Lord Ganesha's persona led him on a quest to uncover the leadership qualities embodied in this divine figure. His scientific approach to analyzing scriptures and extracting practical lessons from the elephant god's attributes forms the foundation of "The Ganesha Way."
Key Takeaways from "The Ganesha Way"
"The Ganesha Way" offers readers a comprehensive compilation of leadership lessons that remain as relevant today as they were in ancient times. Dr. Acharya distills the essence of Lord Ganesha's teachings into actionable principles, including:
Wisdom and Intelligent Decision-Making: Learning to make sound decisions, even in uncertainty, by tapping into inner wisdom and intuition.
A Broad Perspective: Developing a broader outlook to better understand complex issues and make informed decisions.
Creativity and Innovation: Encouraging creative problem-solving and embracing innovation.
Lifelong Learning: Advocating continuous learning and staying updated on the latest trends and developments.
Mentoring and Development: Using knowledge and experience to mentor and nurture the growth of others.
Where to Find "The Ganesha Way"
For those eager to embark on a transformative journey of leadership growth, "The Ganesha Way" is readily available. Readers can obtain a hardcopy of the book from the publisher's website. Additionally, a free sample of the book can be accessed on Amazon, allowing readers to explore its content before making a commitment to purchase.
Get the hardcopy of the book here (https://notionpress.com/read/the-ganesha-way)
Read a free sample of the book https://www.amazon.com/dp/B0CJ43VGLN?asin=B0CJ43VGLN&revisionId=&format=4&depth=1