Union Minister Gadkari Advocates Cost Reduction in Housing Construction for Affordability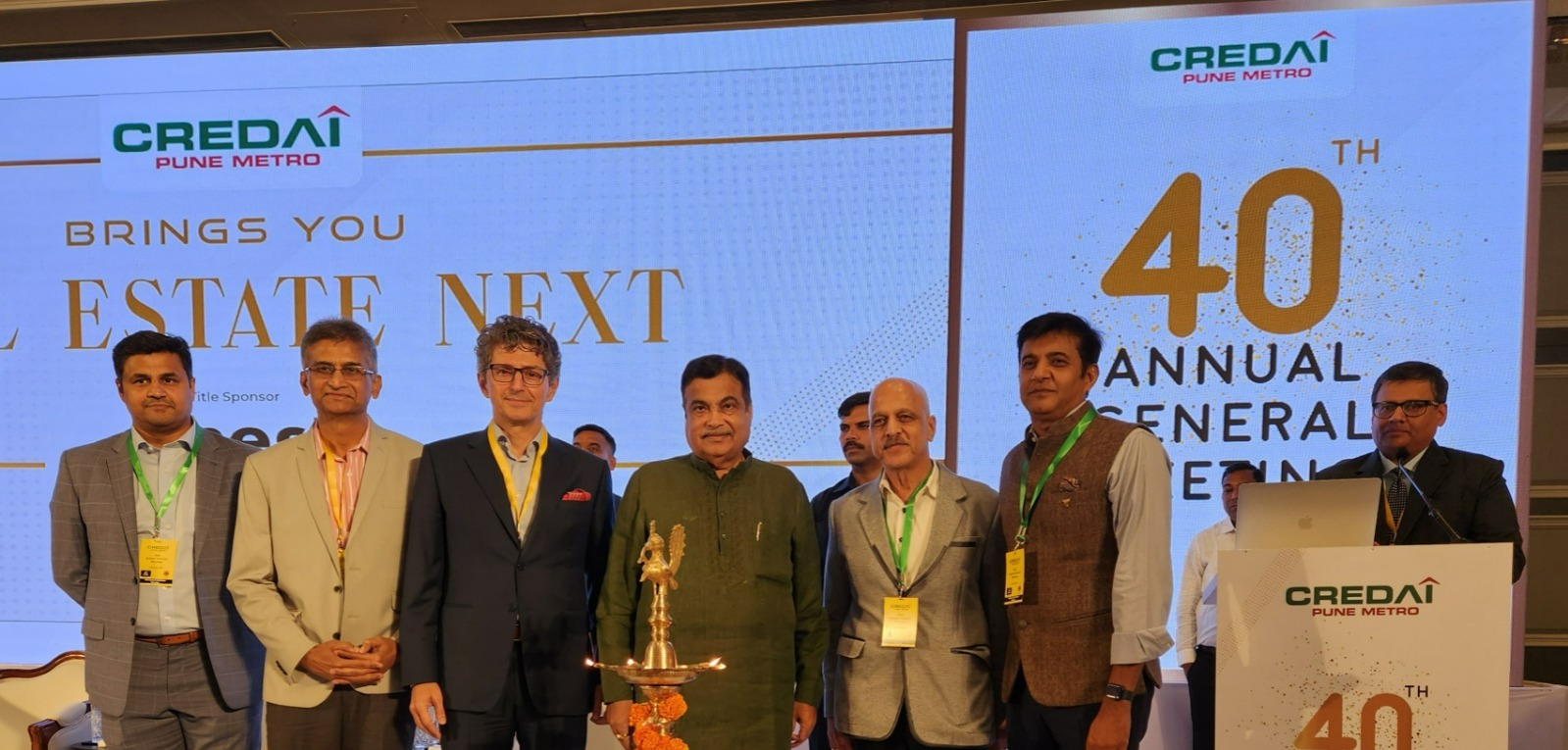 Pune, 15th September 2023: Union Minister for Highways, Nitin Gadkari, emphasized the need to shift focus from larger homes to smaller units, embrace new technologies, adopt innovative construction methods, and utilize creative construction materials as a means to substantially reduce housing construction costs.
Speaking at the 40th Annual General Meeting of the Confederation of Real Estate Developers of India (Credai) Pune Metro, Gadkari stressed that the cost of land and construction are the two primary factors influencing home prices, both of which must be curtailed to make housing more affordable.
Gadkari also highlighted the importance of decentralization, advocating a shift from the concept of smart cities to smart villages, seamlessly connected with cities through efficient road networks.
The event witnessed the presence of prominent figures including Maharashtra Minister for Higher Education and Pune's guardian minister, Chandrakant Patil, Credai Pune Metro President Ranjit Naiknavare, Credai National President Boman Irani, Credai Pune Metro Vice President Aditya Javdekar, Credai Pune Metro Convenor PR Kapil Gandhi, and other office bearers of Credai Pune Metro.
Gadkari acknowledged that only a minuscule percentage of the population can afford homes with price tags exceeding Rs 1 crore. To address this issue, he drew parallels with infrastructure projects, highlighting how his ministry has reduced construction costs through innovative technology and materials. He asserted that similar concepts can be applied to housing construction to make homes more affordable, emphasizing the need to prioritize housing for the masses over high-priced luxury homes.
While acknowledging the current demand-driven market for high-priced homes, Gadkari urged developers to shed complacency and redirect their efforts towards constructing homes for the common people.
In a significant announcement, Gadkari revealed that his ministry plans to launch flyover projects worth Rs 55,000 crore in Pune within three months. He emphasized the importance of envisioning a "New Pune" with robust road connectivity to alleviate pressure on the city's infrastructure.
Chandrakant Patil discussed recent and upcoming infrastructure developments in Pune, highlighting the growing preference for metro railways as a mode of public transport. He also mentioned upcoming initiatives, including e-buses and electric auto-rickshaws, designed to provide efficient last-mile connectivity. Patil noted that the project to provide 24×7 water supply for Pune is nearing completion, along with sewage treatment plants that will make treated water available for agricultural and industrial use.
Ranjit Naiknavare praised the government's efforts to streamline and regulate the construction industry and emphasized the importance of bringing various government bodies under legislation like the Real Estate Regulation Act.
Boman Irani stressed the necessity for developers to collaborate rather than compete, ensuring maximum benefits for customers. He also highlighted Credai's commitment to green construction, transparency, and the inclusion of women in the real estate sector. Irani raised concerns about the issue of Goods and Services Tax duplication for redevelopment projects, calling for its resolution.
Aditya Javadekar, Vice President of Credai Pune Metro, expressed gratitude and proposed a vote of thanks, while Kapil Gandhi moderated the program, facilitating fruitful discussions on critical issues in the real estate and housing sector.