WOTR wins awards from FICCI and TERI-IWA-UNDP for its exceptional contribution in water resource management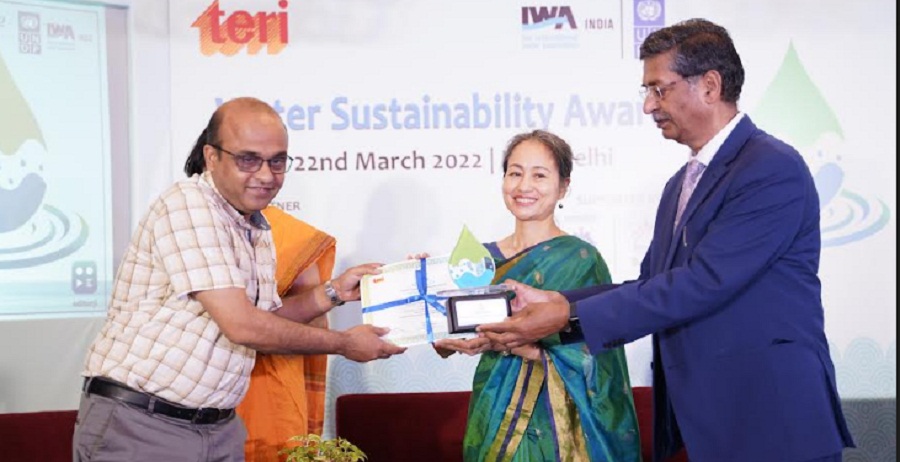 New Delhi, 04th May, 2022: Watershed Organisation Trust (WOTR), a globally recognized nonprofit organization bagged two prestigious awards from FICCI and TERI-IWA-UNDP for its contribution to water management and water stewardship. At the 9th Edition of the FICCI Water Awards, WOTR was felicitated with Joint Second Prize in the 'Water Initiatives by NGOs' category. With this WOTR was also celebrated with the TERI-IWA-UNDP Water Sustainability Award for 'Excellence in Participatory Water Management' for its Water Stewardship Initiative.
Watershed Organisation Trust was rewarded by FICCI for its project 'Building Adaptive Capacities and Resilience to Climate Change of Tribal and Marginalized Communities' in Odisha. Launched in 2018, the project was implemented in 11 villages across 4 Gram Panchayats, namely, Jaltar, Kulusing, Puttasing and Tolana in Rayagada district. The project contributed to an improved climate adaptive and resilient livelihood for rural communities and the dissemination of participative climate change adaptation strategies at the national level too.
On the achievements, Prakash Keskar, Executive Director, WOTR said, "We are committed to ecosystem conservation and sustainable development in rural India. The project in rural Rayagada in Odisha helped villagers adopt responsible water management practices for farming and other purposes. It is a moment of great satisfaction that our efforts in this field have been recognized by renowned organizations like FICCI and TERI.  All credit goes to our hardworking and committed team members of WOTR who worked dedicatedly for the cause". WOTR's Water Stewardship Initiative won the prestigious TERI-IWA-UNDP Water Sustainability Award for 'Excellence in Participatory Water Management' as its Water Stewardship Initiative in Maharashtra. Its project ensured sustainable, equitable and adequate supply of water for various categories of users, through supply and demand management measures at the village and community level in the region.
WOTR team has closely been working with government, panchayats, and local administrations to empower vulnerable communities, women and farmers with a focus on ecosystem and landscapes, climate, water, agriculture, livelihoods, health and sanitation and gender equality. WOTR also engages with institutions and other stakeholders to transform learnings from ground experiences and research programmes and shapes effective policies and programmes.
Keeping an eye on climate change with commitment to sustainable development, WOTR has been employing the Ecosystem-based Adaptation approach to building resilience in rural communities across 7 states of India. WOTR has successfully facilitated 230 NGOs and government Project Implementation Agencies (PIAs), which are important partners for outreach and up-scaling of sustainable initiatives. Additionally, WOTR has published over 136 articles/studies and books, over 106 educational and training films, and 24 tools for wide-scale adaptation.
About WOTR
Watershed Organisation Trust (WOTR) is a globally recognised organization dedicated to transforming the lives of millions of poor villagers across India through participatory watershed development and ecosystems restoration, climate resilient sustainable agriculture, integrated and efficient water management and climate change adaptation, with a special emphasis on building resilience of vulnerable communities, farmers, and women. WOTR was established in 1993 and is headquartered in Pune, Maharashtra, India. As on March 2021, WOTR, in collaboration with its partners, has worked in over 5,300 villages across 9 Indian states – Maharashtra, Telangana, Andhra Pradesh, Madhya Pradesh, Rajasthan, Jharkhand, Bihar, Chhattisgarh and Odisha. It has impacted more than 4.5 million people, trained over 560,000 people from across India and 63 countries and collaborated with 230 NGOs/ Project Implementing Agencies (PIAs), and promoted over 15,500 SHGs involving 190,000 women.
Join Punekar News Whatsapp Group, Telegram, Instagram And Twitter  For Regular Update about Pune City And Pimpri-Chinchwad