AWFIS, the country's largest co working company launches "Co-Working Centres" in Mumbai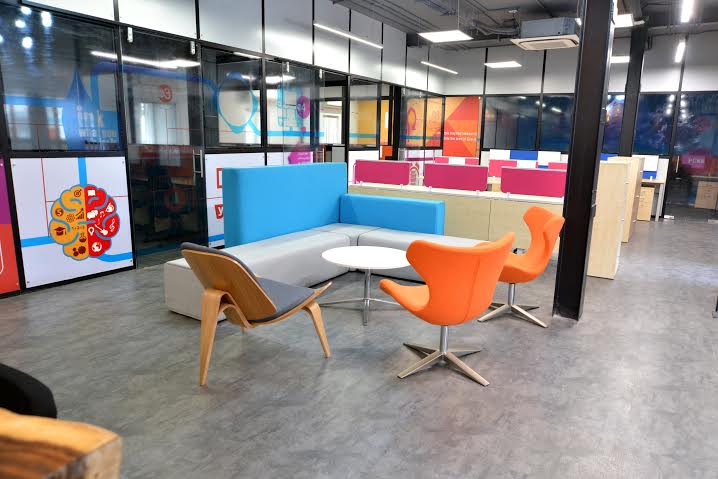 Its co-working spaces are on offer for an attractive ₹400 per person per day
AWFIS is the only 'Just in Time' workspaces company which offers customers the facility to book and pay for inventory anywhere across the country through a mobile application available on Android and IOS platform. 
It offers a range of options from Work-stations, Private Cabins and Meeting Rooms with flexible usage timings and  are enabled with practical plug-and-play technology and services
All centres are equipped with best-in-class facilities such as Video Projection, NFC Cards, CCTV's, High-Speed Internet & Laser Printing

Within nine months 

since it started operations, Awfis with 1500 seats across Mumbai Delhi and Bengaluru, is all set to offer 10,000 seats by the end of this year. 
Mumbai, March 2, 2016: India's largest Co-working company, AWFIS Space Solutions has entered the city of Mumbai by offering a seat for an attractive price of only ₹400 per person per day in key commercial locations which include Churchgate, Lower Parel, Andheri West and Powai.
Co-working or Shared offices provide professionals who are on the move within a city as well as between cities with a shared working environment, as well as flexibility for independent activity across the country. The product is targeted at start-ups, SMEs, mobile professionals, as well as lawyers, CAs, journalists amongst others who are looking at value for cost effective work and meeting spaces.
AWFIS is the first company in this space which has introduced a simple mobile app that enables users to find and book office and meeting spaces in its centres across the country. Just like taxi booking apps, users can book workspaces and meeting rooms on a real time. Bookings can be made for durations ranging from 1 hour to 11 months.
It has also introduced another major innovation for its users.  Apart from its own managed pro-working spaces, Awfis is offering a large repository of listed third-party meeting rooms in hotels in various cities which can be booked on real time basis in a matter of seconds.
AWFIS has already tied up with leading hotel brands like Lemon Tree Hotels, Hyatt, Trident amongst others across India, for booking of their meeting rooms in business centres.
Commenting on the launch of AWFIS co-working spaces, Mr. Amit Ramani, Founder & CEO, AWFIS Space Solutions Private Limited said, "India is currently witnessing a revolution in the start-up and entrepreneurial culture, triggering a rise in the mobile working population. We are in process of creating the largest network of managed work spaces and meeting rooms that will enable users to find a space within a 10 minute driving distance across all major metros. The Anytime, Anywhere network of spaces will provide the ability to work near home to the young Indian workforce"
AWFIS is also partnering with India's leading real estate companies and hospitality players, and aggregating the under-utilized work-spaces, meeting rooms, for creation of Awfis centres. All the centres and managed and operated by Awfis team providing a consistent and streamlined customer experience.
Awfis is offering truly flexible and cost effective membership plans and workspace options. User can choose to work from a flexible workstation, a dedicated seat or from a shared cabin. The pricing starts from ₹350 per day for a flexi work station to ₹750 per day for a fixed work station. The monthly pricing starts from ₹5,000 to ₹11,000 per seat per month for flexi and fixe work stations respectively. The pricing is inclusive of all amenities like unlimited internet, hot beverages, meeting and printing credits.
Awfis centres provide young and energetic environment with activity based settings allowing its users to maximize their productivity. The contemporary interior designs of AWFIS Centres have been conceptualized by leading design and build partner, Nelson India.
To bring in more value to the customers, the start-up has formed strategic alliances with leading service providers in the space of accounting, legal, recruitment, insurance, web services and a bouquet of essential services that allows them to avail discounted and preferential access to their services.  AWFIS is also providing a platform for its community members to regularly interact, network as well as share ideas at events and seminars.
Just nine months since its inception Awfis has already catapulted itself into the largest player in the co working space in the country. It is now on track for a threefold increase in its capacity from 1500 seats currently in 7 centres operational across Mumbai, Delhi and Bengaluru to over 3000 seats by the end of March 2016 across 15 centres in Mumbai, Delhi and Bengaluru. Awfis has targeted 10,000 seats by the end of the year across 50 centres in seven cities.
To support its aggressive growth plan the company has already invested $3 million last year and have committed a total of $10 million investment to expand its business.