Camp Education Society (CES) celebrates Silver Jubilee of Lila Poonawalla Foundation (LPF)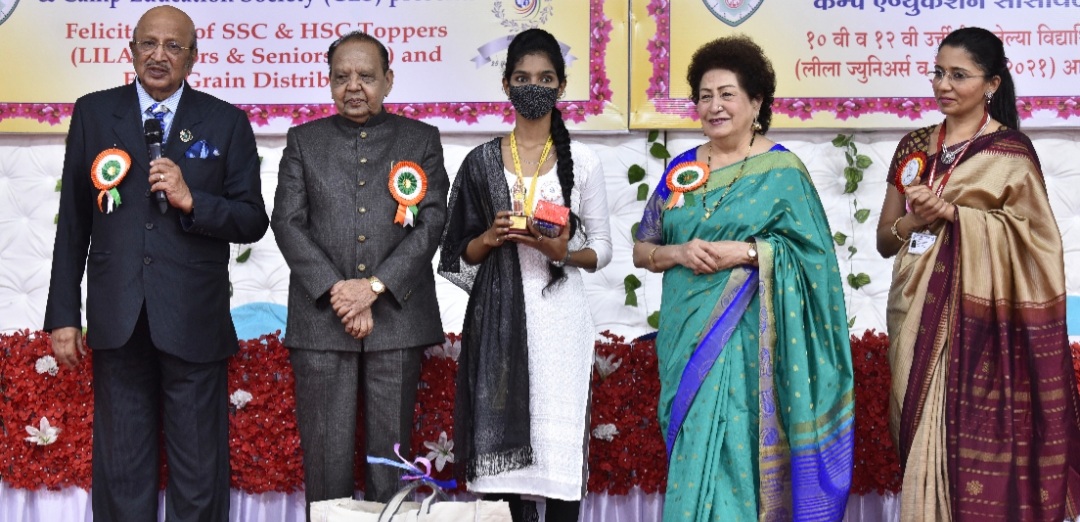 Pune: 21st August 2021:   The 25th Year celebration of LPF started with Mr. Walchand Sancheti (Chairman of CES) honouring Mrs. Poonawalla, Chairperson of LPF for completing 25 years of the foundation'sa phenomenal journey. LPF's two and a half decade's journey has changed the life of almost 11000 young girls by imparting professional literacy to them thus empowering them not only technologically but also psychologically and boosted their confidence in oneself which is ultimately necessary for achieving economic independence.
This Event was made all the more special as chosen LILA Daughters were felicitated with unique trophies in a special ceremony. 40 LILA Juniors and Seniors from the LPF School Project – '2Morrow 2Gether' were felicitated for excelling in the SSC and HSC Board Exams. The toppers were also awarded Smart Phones as a gift from LPF for their tremendous performances in their final exams which will help them study over the Internet if required during these tough times.
The celebrations did not just end here, the LILA Daughters and their families were also given a month's worth of Food grains and other essential groceries. This initiative was specially conducted by LPF's Founder Trustee Mr. Firoz Poonawalla. With the support of family, friends and corporate partners, Mr. Poonawalla has single handedly spearheaded this initiative. Not letting his age or the COVID-19 Pandemic slow him down. Mr. Poonawalla has helped over 3,300 families of LILA Daughters through this initiative.
At the event the LPF trustees and the CES committee members were also felicitated.  It was a grand event, with all the COVID-19 protocols in place, and was graced by Mr. Walchand Sancheti (Chairman, CES) as the chief guest and Mrs. Lila Poonawalla (Chairperson, LPF, recipient of the Padma Shri Award, 1989 and Commander 1st Class, Royal Order of the Polar Star, 2019, Sweden) as the Guest of Honor. The event was also graced by Mr. Firoz Poonawalla (Founder Trustee, LPF), Ms. Priti Khare (CEO, LPF), the LPF Board of Trustees and the CES Committee Members.
The function had four important events rolled into one. LPF honored Mr. Walchand Sanceheti, President of Camp Education Society for his life time social work. Second, the function honored me as your Chairperson of LPF for completing 25years of the phenomenal journey. Next we celebrated the achievers of Lila Junirs in their SSC results and Lila Seniors for HSC for good results.
We gave them beautiful food grain packets, a pen set with a beautiful cup designed as a nib of a fountain pen and we also gifted them with Smart phones which will help them with their online studies and programs. The function also honored our beloved Freny Tarapor Roda Mehta and Vandana Beltikar our Trustees.