CM's inspirational speech in Gujarat Session of 'Make in India week'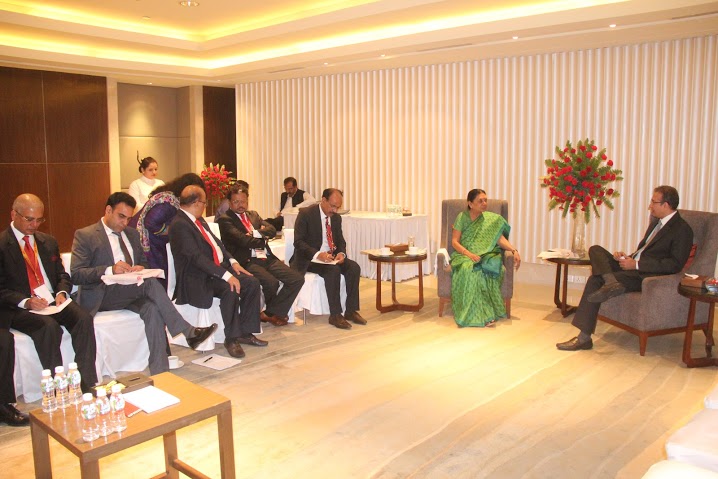 Gujarat is completely committed to fulfill Prime Minister's campaign 'Make In India': Anandiben Patel
Gandhinagar, Tuesday: Gujarat Chief Minister Mrs. Anandiben Patel expressed confidence that Gujarat is completely committed to fulfill 'Make in India' campaign initiated by Prime Minister Mr. Narendra Modi. Today Mrs. Patel has inspirationally addressed a gathering of industrialists – investors present in Gujarat Session of Make in India week organized at Mumbai.
She said that Gujarat became a Global Gate-way of India by meticulous execution of industrial friendly policies. There are best opportunities in Gujarat through its liberal policies for establishing industry, she added.
Mrs. Patel expressed her determination to initiate foreign desks in five cities of the world like Frankfort, Dubai, New York, Guangzhou and Tokyo to provide institutionalized form to investment opportunities in Gujarat.
She briefed in details that we have initiated single window system for industrial houses with a purpose to provide required permissions easily from a single place. A high level committee is working under my observation for the progress – implementation of various MOUs signed in vibrant summit, she added.
Mrs. Patel described about the specialties of recently announced electronic policy, IT policy, cottage industry policy, textile policy, plastic industry policy and tourism policies in Gujarat. Gujarat will declare Gujarat Mega Industry Incentive Policy, policy for MSME, agro food policy and defense manufacturing policy in near future, she added.
Gujarat is willing to concentrate on as many as 25 issues for the projections of all these policies included in Make in India. Gujarat is committed to lead in fulfilling 'Make in India' by encouraging new private industrial park and special investment regions, she added.
By providing numerical information about Gujarat's top rank in investment proposals and investment improvisation across the nation, Mrs. Patel said that Gujarat has received investment intentions proposals worth Rs. 62,403 in 2015, which is nearby 21% of the whole country. Referring by proud she said that Gujarat has proved its excellence in 97 multiple parameters of 'Ease of Doing Business'. Gujarat has adopted to encourage MSME, small and medium-micro industries as well. More than 6 lakh such MSMEs situated in the state are providing employment opportunities to more than 39 lakh people. Gujarat has became the biggest auto hub in the nation and giant multi-national auto industries such as Tata, Ford, Maruti, Honda Scooters etc are operating in Gujarat, she added.
By expressing her views about various initiatives of all-round inclusive development of Gujarat, Mrs. Patel briefed present people about strategies of  DMIC project, to develop state of art city nearby Dholera SIR, special industrial park for women in Sanand and to initiate these types of parks in Junaid of Bharuch and Halol nearby Vadodara during Gujarat Session.
On the occasion, Chief Secretary Mr. G. R. Aloriya, Chief Principal Secretary to CM Mr. Kailashnathan, Additional Chief Secretary to Industries Mr. Arvind Agarwal, Industries Commissioner Mrs. Mamata Verma, Secretary to CM Mrs. Ajay Bhadoo, various industrialists and officers were remained present.