Critically endangered Long-Billed Vulture released back into the wild after 57 days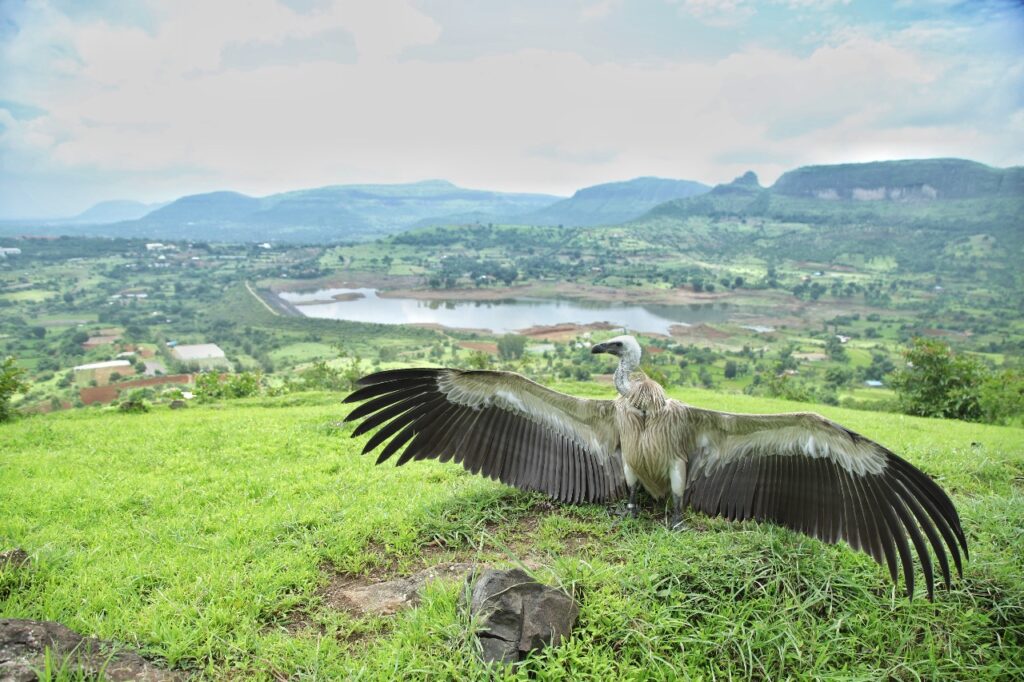 Anvita Srivastava
Pune, 27 July 2020: A critically endangered species, Long-Billed Vulture that suffered a fracture on the wing was rescued by Eco Echo Foundation, Nashik on May 29. It was moved to RESQ Wildlife Treatment Transit Centre, Pune with the help of Nashik and Pune Forest Divisions for treatment of its fractured wing. After 57 days of rehabilitation at Wildlife RESQ Centre, it was finally released back into the wild recently. After making a full recovery at RESQ Centre the vulture was released back to the Anjaneri Conservation Reserve, Nashik.
There has been a 99 per cent decline in the vulture population over the last three decades in India. Its critically endangered status denotes that it is only one step away from extinction. Rehabilitation, rewilding and release of this vulture is a huge achievement on the conservation front.
"Physiotherapy and laser treatment had been provided to the vulture to aid in its recovery. We were overjoyed to see it take off into the skies on its release after all the efforts we put in," said Abhijeet Mahale, Head – Wildlife Rehabilitation, RESQ, Pune.
Neha Panchamiya, Founder and President, RESQ Charitable Trust, Pune said, "When the Vulture came to RESQ, we took it as a challenge to put our efforts into ensuring this bird goes back into its habitat, fully recovered with the least amount of time spent in captivity. After years of a sharp decline in the numbers of vultures, every vulture released back into the wild makes a huge difference."
Range Forest Officer Vivek Bhadane, Nashik Forest Division said, "After the rescue of the vulture 2 months ago and the treatment that it has received at the RESQ Centre and Eco Echo Foundation, this is an enormous achievement for RESQ, Eco Echo Foundation and the Maharashtra Forest Department, that this critically endangered species has been released back in the reserve where it is free and it is joyous for us to see it soaring high."
Sreelaxmi A, Deputy Conservator of Forest, Pune Forest Department also applauded the work. She said, "It is a great achievement that a critically endangered species like vulture has been successfully treated and released in its habitat."