For Morning Walk, Pune Police Take Action against Hundreds of People, Made them do Yoga, Sit-ups, FIRs registered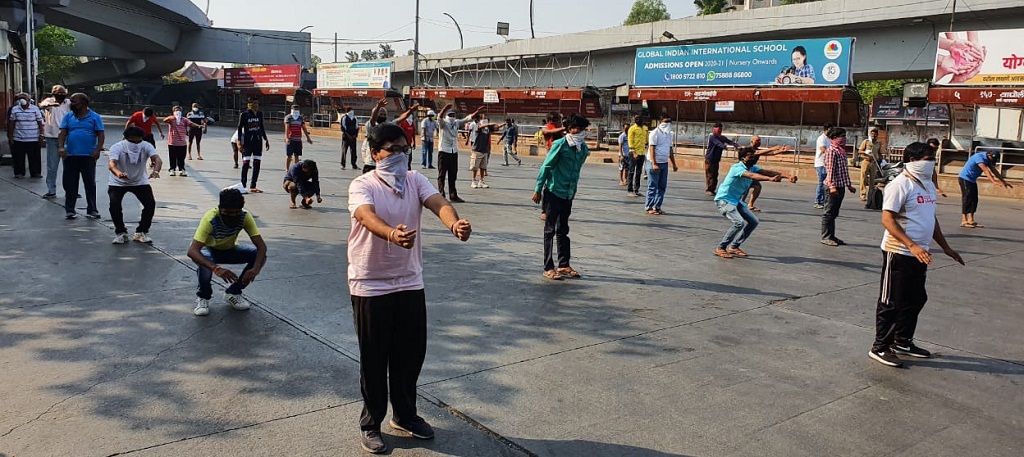 Pune, April 16, 2020: In early morning operation across the city, Pune city police officials intercepted people going for a morning walk. While at many places they were made to do Yoga and sit-ups, FIRs were registered against over 100 people.
Officers from the police stations said that the action was taken as per the orders of Police Commissioner and Joint Commissioner as people were violating lockdown order of staying at home. Crime Branch staffs were also involved in the action.
In Hadapsar, FIRs have been registered against 54 people till now. issued warning notices also. They were asked to stay at home come out of home only when it is necessary. Similar action was taken at Wanowrie, Bibvewadi, Kondhwa, Swargate at other places. People were also issued warning notices.
According to the District Health Office (DHO) between 7 pm April 14 to 7 pm April 15, there has been an increase of 63 new cases of Coronavirus Positive in Pune district.
Out of 437, a total of 369 are from Pune Municipal Corporation (PMC) while 42 are from Pimpri-Chinchwad areas, and 18 are from Pune rural areas, while 7 are from Pune cantonment and one from Khadki cantonment. A total of four persons died during treatment in Pune yesterday.
As the number of Coronavirus Positive patients are increasing day by day, the lockdown has been extended till May 3. Meanwhile, Pune city police have issued prohibitory orders for strict implementation of a curfew in almost half of Pune city areas, where many COVID19 patients have been detected.
Joint Commissioner of Police (Law and Order) Ravindra Shisve issued the orders which also include directions to keep all non-essential establishments closed including religious places as well as a ban on vehicle movement. People have to wear a mask if they are outside their homes. Only Kirana, medical store, hospital and other essential services are allowed to operate. People are not allowed to come out on road or in bylanes. Social distancing is the key to prevent the spread of Coronavirus and hence people should stay at home, the order states.