GENERAL BIPIN RAWAT'S LEGACY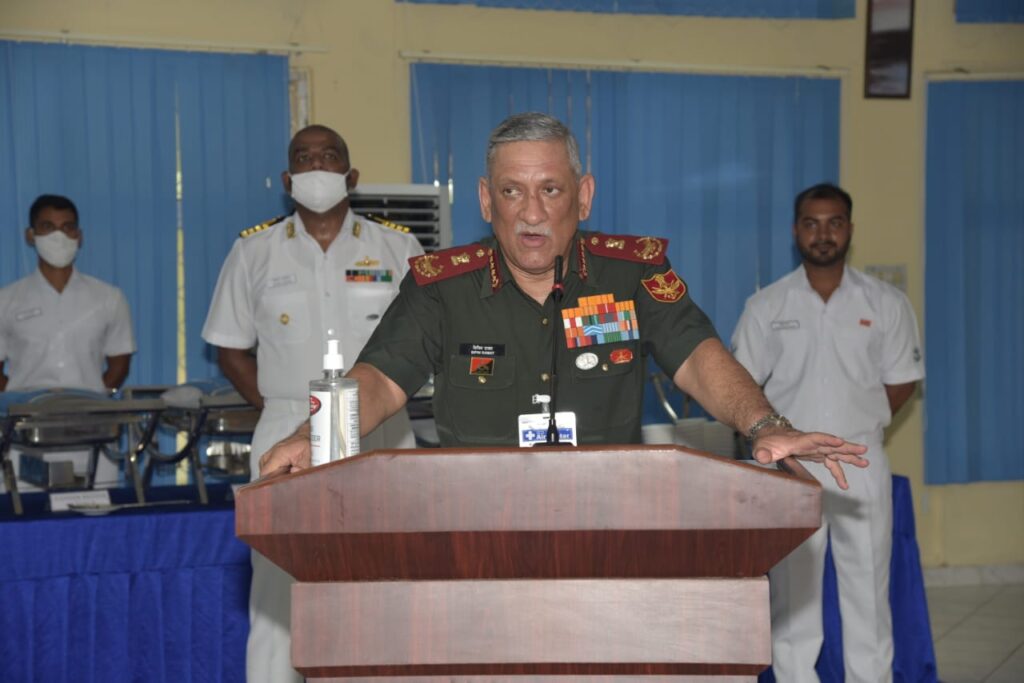 Ajay Singh
Pune, 9th December 2021: It has been a tragic week for the country and the Armed Forces. First came the incident in Nagaland with the needless loss of precious army and civilian lives. And even graver still is the loss of General Bipin Rawat, India's first Chief of Defense Staff, his wife Madhulika and eleven others in a tragic helicopter crash at Coonoor. 
General Rawat was on his way to deliver a talk at the Defense Services Staff College, Wellington, in a twin-engine MI-17 V5 helicopter and was just ten minutes away from landing when locals saw the helicopter 'flying very low'. It hit a tree, crashed and burst into flames. Only one person in the ill-fated helicopter, Group Captain Varun Singh, survived and is battling for life. 
It is pointless deliberating on what caused the crash and pointing fingers. The reasons will come out later, and in all probability would be a combination of weather and unforeseen conditions. More importantly, is the need to understand the significance of the loss and what it means for the future.
General Rawat had taken over the position of Chief of Defense Staff three years ago, after an eventful tenure as Chief of the Army Staff. He helped steer the Armed Forces towards 'jointness and integration'. It is this and the thrust that he laid on modernization that will be his lasting legacy. He overcame long-standing objections in his push for Integrated Theater Commands, which would bring all Army, Navy and Air Force assets in a theatre under a single commander. 
It would lead to significantly better synergy and coordination of resources. This concept may see fructification with the creation of an Air Defense and a Maritime Command. He also pushed forward the concept of Integrated Battle Groups, incorporating large Brigade sized forces specifically tailored for the mission at hand. In his attempt to change the status quo, perhaps he had ruffled a few feathers but succeeded in his primary aim – pushing the services towards integration and modernization. 
He also actively pursued the indigenization of weaponry – proposing Atma Nirbhar to give a boost to the Indian defence industry and incorporating them in the development of arms and equipment specifically designed for the Indian forces. If that comes about, India's reliance on foreign imports of arms will reduce drastically and we could well become a major exporter. At the same time, he ensured that much-needed equipment came in, focusing on the essentials and even denying the Navy its third Aircraft Carrier. With an eye on the future, he relentlessly cut the flab and non-essential services so that the forces could become lean and fighting fit. 
The loss has come at a time when India is facing one of its greatest security threats from both Pakistan and China. Rawat was known for his hard stance against both – even publicly acknowledging China as the main threat and gearing the forces for the eventuality of a two-front war. Many of his actions – be it standing firm in Doklam and Ladakh, or coordinating surgical strikes in Myanmar and inside Pakistan – revealed a boldness that put the adversary on the back foot. 
His void will be difficult to fill. His successor would be announced soon – and many sources place Gen Naravane as the forerunner. General Rawat's legacy of modernization, joint manship and integration has only been half-done. Yet he has laid the foundation securely. It is up to those who follow to ensure that the reforms are carried out and the forces placed on the road to modernization. That is the tribute that he would most have desired. 
(Col Ajay Singh (Retd) is a poet, photographer and writer-at-large who has donned the uniform for 28 years, before falling to the lure of words. Since then, he has written four books – including the bestselling novel, 'Through Orphaned Eyes' and over 200 published articles. A renowned public speaker, he lectures extensively in schools, colleges and other institutes. He has co-hosted TV shows and writes screenplay for film and television. He stays in Pune and can be contacted at ajay88singh@yahoo.co.in)