"Need to consider Tigers as natural capital, define conservation as a means to achieve development": Prime Minister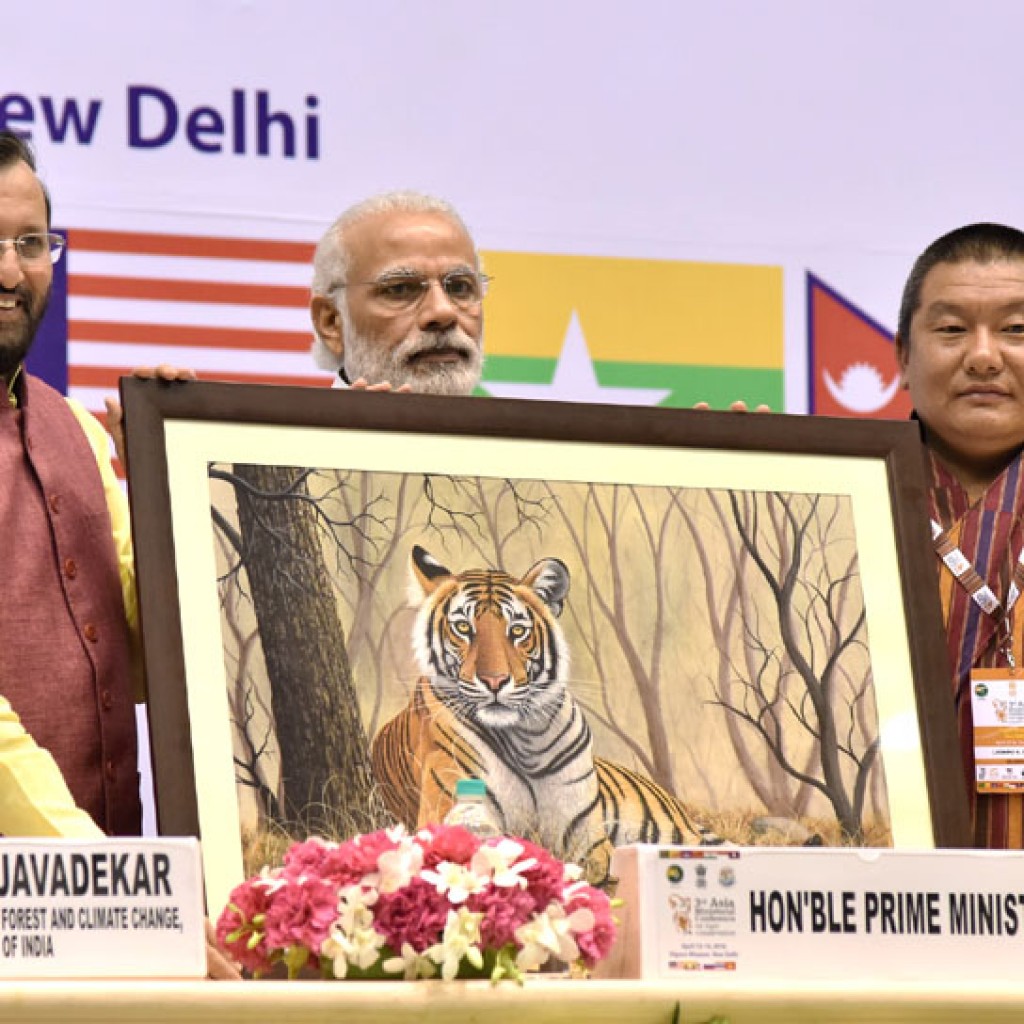 "India has zero tolerance against wildlife crimes":  Javadekar
Third Asian Ministerial Conference on Tiger Conservation inaugurated
The Prime Minister, Shri Narendra Modi, has said that there is a need to consider Tigers as our "natural capital" and to define conservation as a means to achieve development, rather than considering it to be anti-growth.  In his inaugural address at the 3rd Asian Ministerial Conference on Tiger Conservation here today, the Prime Minister said that Tiger conservation, or conservation of nature, is not a drag on development and that both can happen in a mutually complementary manner.  He emphasized the need to "smartly" integrate the Tiger and wildlife safeguards in various infrastructures at the landscape level. The Prime Minister called for the need to involve business groups through corporate social responsibility for various initiatives towards Tiger conservation.
The Prime Minister said that Tiger Range Countries are signatories to other international conventions to address international trade on endangered species. "We are moving towards formally adopting the statute of South Asia Wildlife Enforcement Network", he said.
Expressing concern over trafficking of body parts and derivatives of Tigers, the Prime Minister emphasized the need to collaborate at the highest levels of Government to address this serious issue.  He said that Tiger Reserves also provide a range of economic, social, cultural and spiritual benefits    "This calls for factoring in the value of the ecosystem in the economic arithmetic of development and growth", the Prime Minister said.  He added that the use of modern technology, including intelligent, infrared and thermal cameras on a 24×7 basis is being promoted for surveillance against poaching in sensitive Tiger Reserves.
            The Prime Minister released a joint report on "Status of Tigers in the Sunderban Landscape – India and Bangladesh" on the occasion.   He also presented awards in various categories for Tiger conservation to representatives from Tiger Reserves. The award-winning Tiger Reserves include: Periyar Tiger Reserve for Best Anti-poaching practices; Satpura Tiger Reserve for Village Relocation and Settlement; Kanha Tiger Reserve for Active Management; ParambikulamTiger Reserve for Community Participation in Eco-Tourism and Kaziranga Tiger Reserve for Conservation of Species other than Tigers.
Addressing the gathering on the occasion, Minister of State (Independent Charge) of Environment, Forest and Climate Change, Shri Prakash Javadekar strongly emphasized that India has 'Zero Tolerance' against wildlife crimes such as poaching.  He said that the recent case of poisoning of Tigers in Pench Tiger Reserve is unacceptable and that all the culprits have been arrested and will be severely punished.   "We lead by example and are committed to cooperate with other Tiger countries", Shri Javadekar said.
The Environment Minister highlighted the need to protect Tiger corridors. "We will incentivize project proponents to give land for Compensatory afforestation in Tiger corridors", Shri Javadekar said.   Pointing out that Tiger is an epitome of ecosystem and if conservation of Tiger is successful, it means that the whole ecosystem is improving, the Minister said that as per the Tiger count conducted in 2014, India had 2, 226 Tigers.  In the last two years, the number has been rising and according to rough estimates, there are nearly 2, 500 Tigers in the country.  Shri Javadekar also said that as per WWF estimates, the Tiger population the world over has grown from 3, 200 to 3, 890 in the last five years, which is a 22% increase.  He said that six countries in the world have shown an increase in the number of Tigers.  "We have started a unique experiment in new Standard Operating Procedures (SOPs) for orphaned Tiger cubs. This has started yielding results and four such orphaned Tigers have been released back in the wild after proper care in "In situ" enclosures.
            Shri Javadekar lauded the Prime Minister's commitment for Tiger conservation and that he adopted best conservation practices of nature and wildlife as Chief Minister of Gujarat.  "The growing number of Lions in Gujarat is a testimony to his efforts", the Minister said.   He also referred to the increase in the budget for Project Tiger from Rs 185 crore to Rs 380 crore, and that with 60:40 participation of states, this increase translates into Rs 500 crore in one year for Tiger protection.
            Chairman Global Tiger Forum and Minister of Agriculture & Forests, Bhutan, Mr Yeshey Dorji, also addressed the gathering.  Secretary, Ministry of Environment, Forest and Climate Change, Shri Ashok Lavasa, delivered the vote of thanks.    Director General of Forest & Special Secretary, Ministry of Environment, Forest and Climate Change, Dr. S.S Negi and Shri B.S Bonal, NTCA were among those present on the occasion.