Raksha Mantri's Statement at the Joint Press Conference with Dr Ashton Carter, United States Defence Secretary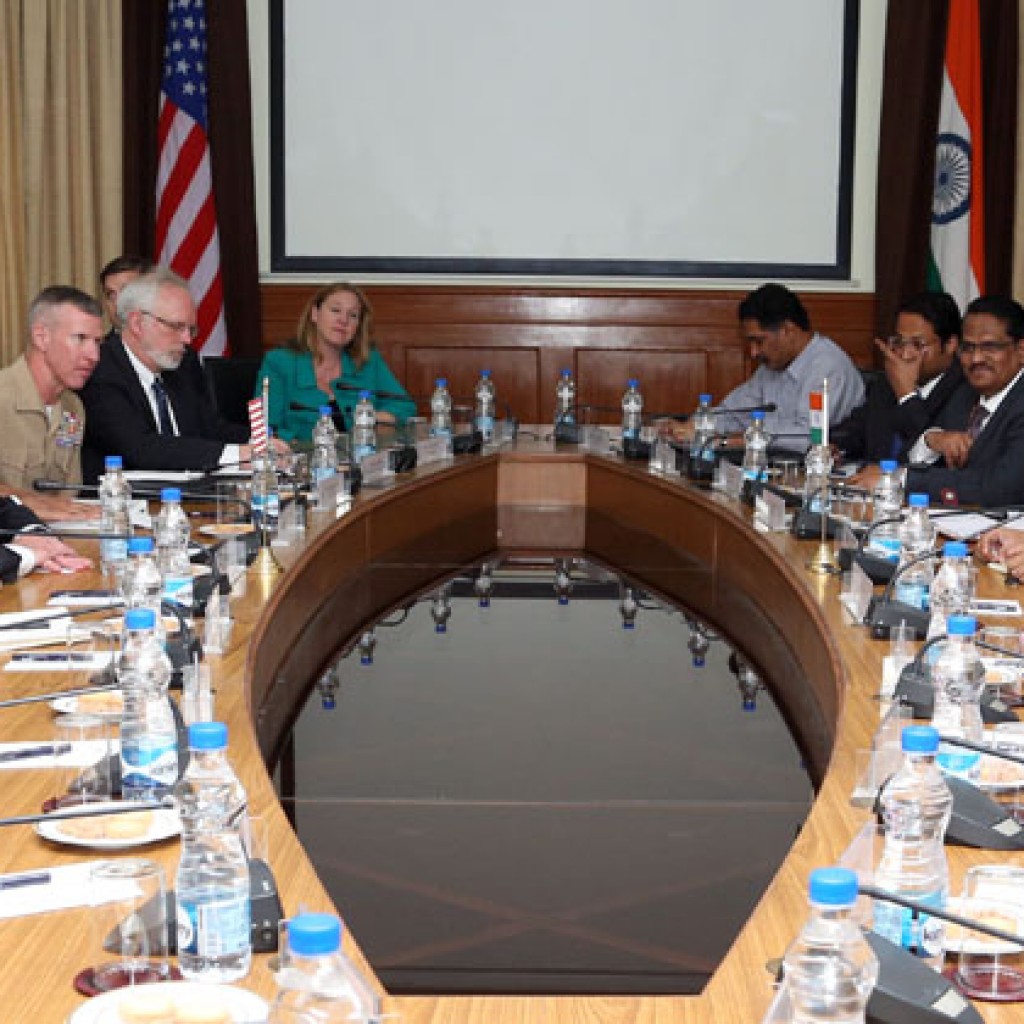 The following is the full text of Raksha Mantri Shri Manohar Parrikar's speech delivered at the Joint Press Conference with Secretary of Defence of the United States Dr. Ashton Carter:-
Your Excellency Dr Ashton Carter, Defence Secretary of the United States, Distinguished Members of the Media,
It is indeed a great pleasure for me to receive Dr Carter in India. This is his second visit in less than a year, reflecting his continued interest in expanding bilateral defence relations between our two countries. We in India regard Dr Carter as a great friend and advocate of a stronger India-US partnership. We appreciate his personal commitment and guidance in deepening the strategic partnership between India and the United States.
Our discussions, spread over the past three days, have been marked by characteristic warmth, candour and a sense of mutual purpose. I am confident that the India-US relationship will be one of the key global partnerships of this Century. Defence cooperation is a central pillar of India's multi-faceted relationship with the US. A stronger India-US partnership will promote peace, stability and progress in our region and the world.
As many of you are aware, Secretary Carter is the architect of the India-US Defence Technology and Trade Initiative. DTTI has provided an unprecedented platform for our two countries to strengthen bilateral cooperation in cutting-edge technologies and to address procedural delays in decision-making. We have decided to take forward discussions under DTTI more aggressively on key areas such as Jet Engine technology. We will also continue our very useful and productive discussions on cooperation in the framework of the Joint Working Group on aircraft carriers. We also agreed to expand DTTI by introducing new and more ambitious projects for mutual collaboration. Both of us noted the strong complementarities between DTTI and the Make in India initiative. I hope to work together with Secretary Carter over the coming weeks and months to facilitate synergies between Indian and US companies in high technology areas, and in particular to promote participation of Indian companies in global supply chains.
I was deeply honoured by Secretary Carter's acceptance of my invitation to visit Goa as well as the Indian naval base in Karwar and INS Vikramaditya, which showcase the finest capabilities of the Indian Navy. We also visited the USS Blue Ridge, which is currently on a goodwill visit to India.
These visits underline the growing importance of the maritime dimension of our relationship, as manifested in the Joint Strategic Vision for the Asia Pacific and the Indian Ocean region. It was entirely appropriate that we visited India's western shores. Even as we work with the United States to realize the full potential of India's Act East policy, we also seek a closer partnership with the United States to promote our shared interests in India's West, especially in the context of the emerging situation in West Asia.
With a view to taking our cooperation forward, Secretary Carter and I have agreed to set up a new bilateral Maritime Security Dialogue between officials from our respective Defence and External Affairs Ministries. We have also decided to enhance our on-going Navy-to-Navy discussions to cover submarine-related issues. Both countries will also deepen cooperation in Maritime Domain Awareness by finalizing a 'White Shipping' Agreement.
The growing interaction between our armed forces is another significant aspect of our bilateral partnership. Today, India has more joint exercises with the United States than with any other country in the world. After a few years, we are taking part in multilateral exercises such as the Red Flag Air Force exercise and the RIMPAC Naval Exercise. As our engagement deepens, we need to develop practical mechanisms to facilitate such exchanges. In this context, Secretary Carter and I agreed in principle to conclude a Logistics Exchange Memorandum of Agreement in the coming months.
We also discussed the regional security environment. I underlined India's continuing concern at terrorism in the region directed against us. Secretary Carter emphasised that eliminating terrorism, and the ideology and infrastructure that supports it, is a common objective the United States shares with India. We look forward to even closer bilateral cooperation with the United States on counter-terrorism.
Ladies and gentlemen,
India and the United States are both strongly committed to a rule-based international order. We will continue to work together to maintain peace and stability and to maintain an enabling framework for progress and prosperity in the Asia-Pacific. It is the convergence of our core democratic values and deeply shared interests that drives our relationship forward. Secretary Carter's visit has elevated our strategic partnership to a higher level. I look forward to working together with him in the days ahead to implement the decisions that we have reached during this visit.