Pune: People From Age Group 6 To 104 Years Attend Walkathon Organised By Bohra Community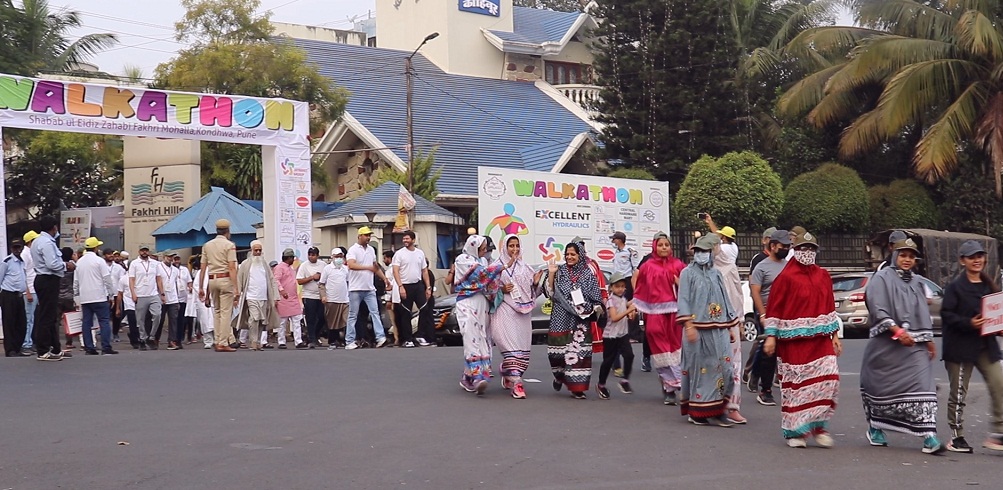 Batul Hakim
Kondhwa, 7th November 2021: A walkathon was organised by the Shabab-ul-Eidiz-Zahabi Committee from the Bohra Community at Fakhri Hills, Kondhwa today. There were around 750 participants present and they were of ages ranging from 6 years to 104 years. 
The event lasted for around 75 minutes and the goal which was to cover 10,000 steps was successful and ended with people taking a resolution to adopt the practice of brisk walking in their lifestyle. This was organised on the occasion of 111th Milad Mubarak of the Dawoodi Bohra Community's late, Dr Syedna Mohammed Burhanuddin (R.A.) and the 78th Milad Mubarak of Syedna Aali Qadr Mufaddal Saifuddin (T.U.S.) who is the spiritual leader of the Dawoodi Bohra Community. 
Some esteemed dignitaries were also present which included MLA Sunil Kamble, Congress leader Abhay Chhajed, Rohit Tilak, NCP city president Prashant Jagtap, Senior Police Inspector Sardar Patil of Kondhwa police station, Corporators Umesh Gaikwad, Gafoor Pathan, Nanda Narayan Lonkar, Sainath Babar, Khadki Cantonment Board member Pooja Manish Anand. 
A participant and member of the committee, Ammar Dhilla said, "We are motivating people to walk for at least 40 mins per day for keeping fit and healthy and to let people know and see the benefits of walking."  
There were two fitness instructors present who gave a few tips and instructions as well as a good warm-up session was also conducted before the walkathon started. The motive of this walkathon was to achieve "Leading a healthy lifestyle" – with a 30 mins brisk walk every day – as per guidance given by HH Dr. Syedna Mufaddal Saifuddin Saheb (TUS). 
For the safety of the walkers, one ambulance and other transport vehicles were accompanying the participants too. The officials flagged off the walkathon and were also seen participating enthusiastically in the event. The participants were then given snacks, medals, and certificates on completing the walkathon. 
Another participant Munira Kothawala said, "I don't usually exercise but after participating in this event, I will try to now regularly walk or exercise every day and also make my parents join me." 
Secretary and organiser Huzefa Zakir said, "We will definitely try to organize such events more frequently, but it is each and every citizen's responsibility to take this forward too. We hope this will be a start to a healthy lifestyle." 
Advt